ADVANCED COOLING SYSTEM SOLA™
RSI is proud to provide a two-phase liquid immersion cooling solution in Japan, partnered with Taisei and Shinohara Electrics. Enabling customers to significantly reduce data center energy consumption, improve power usage efficiency (PUE) and reduce operating costs and environmental impact.
What is Immersion Cooling?
Immersion cooling is a new cooling method in which the computer is cooled by immersing it in a liquid. The computer is completely submerged in a tank filled with a cooling liquid. Heat generated by the computer is removed by transfer to the liquid.
There are two types of immersion cooling: 1-phase and 2-phase.
The 1-phase method uses mainly petroleum-based liquids such as mineral oil, synthetic oil, and bio-oil, while the 2-phase method uses fluorocarbon-based liquids with low boiling points.
The difference between 1-phase and 2-phase systems is classified according to how the state of the liquid used in the cooling changes. A cooling system in which the liquid remains in a liquid state is called a 1-phase system, while a cooling system in which the liquid state changes to a gas and liquid is called a 2-phase system.
The liquid used in the 1-phase method cools the computer by adjusting its temperature. The heated liquid is removed from the immersion tank, cooled by a heat exchanger dedicated to the immersion equipment, and then returned to the immersion tank to cool the computer again.
In the case of 2-phase liquid, the heat is removed from the computer by evaporation and vaporization of the heated liquid. The evaporated liquid is cooled by a condenser in the immersion tank and becomes liquid again for use as a cooling liquid.
The advantage of immersion cooling is that it can effectively cool servers with extremely high workloads, which has become an issue in recent years. It is also attracting attention for its ability to reduce power consumption compared to traditional air conditioning systems.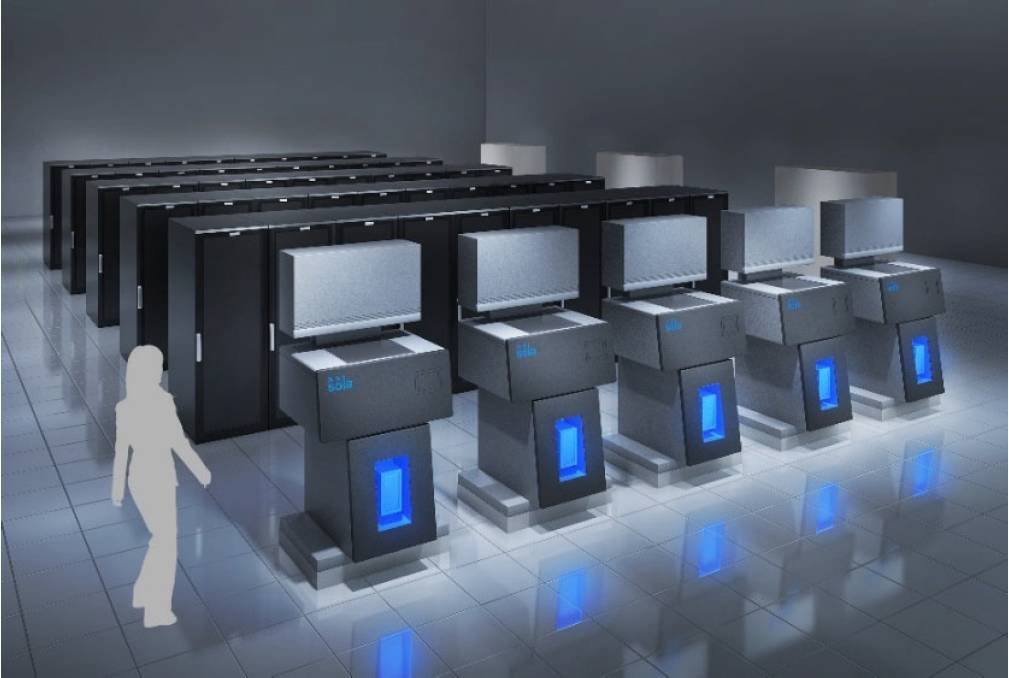 SOLA® ADVANTAGES
• Higher Efficiency and Energy Savings.

90% efficiency advantage in the data centers compares to air cooling – including server power consumption and air conditioning costs.
• Improved Reliability.
Components are not subject to temperature variations, reducing failure potential & no cooling fans required, eliminating degradation from vibration.
• Higher Computing Density.
No need for heat sinks and cooling fans means computing parts can be placed closer, which can increase computing power by 10 times in the same space.
• Lower Maintenance Requirement.
Passive cooling system means no unnecessary parts to build or service, useful especially for remote locations such as edge computing stations.
• Deployment Flexibility.
No air conditioning and low maintenance requirements, it can be shrunk to expandable modules and deployed in confined spaces and extreme environments.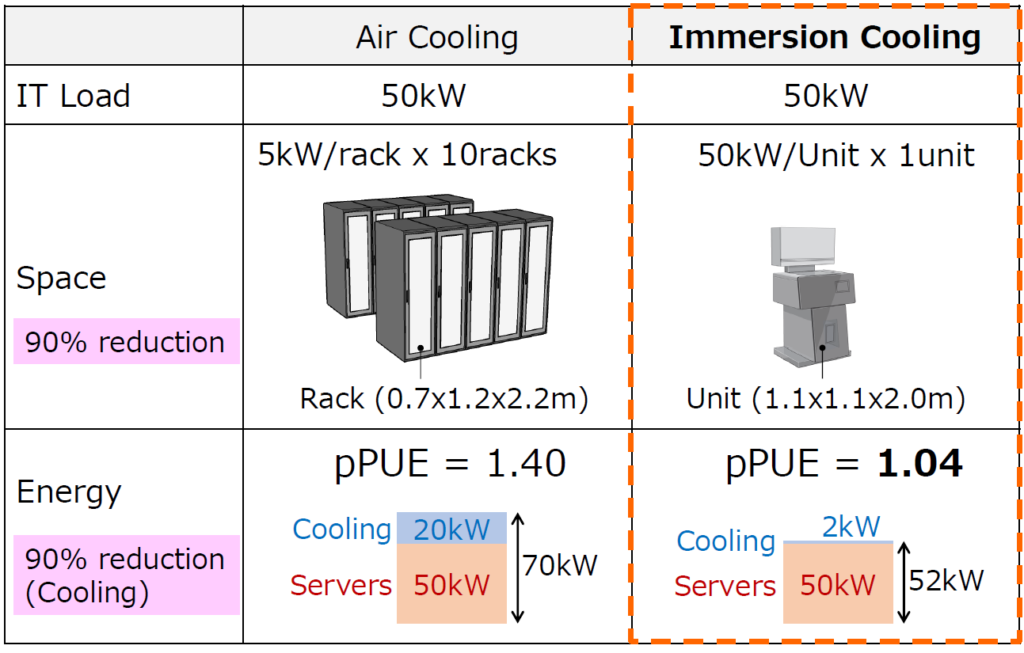 How does Sola™ two-phase immersion cooling work?
Servers and other IT equipment are immersed in a special liquid that vaporizes at low temperatures. Heat is removed from the system by circulating the liquid into direct contact with hot components, whereby the liquid undergoes a low-temperature evaporation process to cool the hot components and transfer the heat out of the liquid. The gas is cooled again by a heat exchanging method such as a condenser coil to allow return flow into the larger liquid volume.
Although two-phase immersion cooling has several different variations, Sola™ technology uses an "open bath" system, using a tank which contains a larger body of dielectric liquid where multiple servers are immersed into the bath, sharing the same liquid. The open bath system is fully sealed and can be opened from the top to service IT equipment.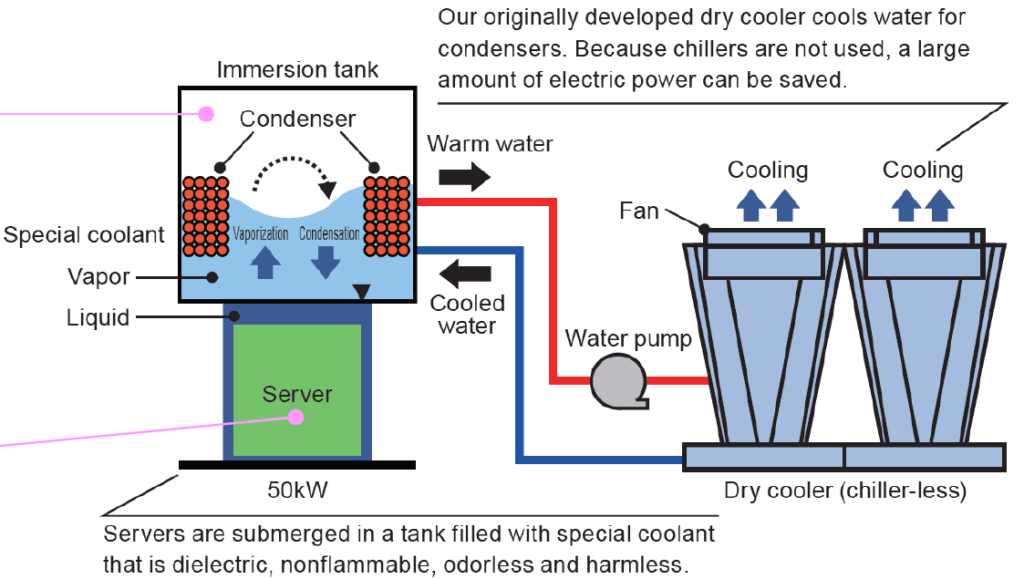 REACH OUT TO US ABOUT
YOUR NEEDS
RSI is proud to provide a range of services in the data center industry, from planning and construction to operations and management.
Our bilingual services cover every aspect of network and data processing services. We can help you integrate your solutions into the future of computing.