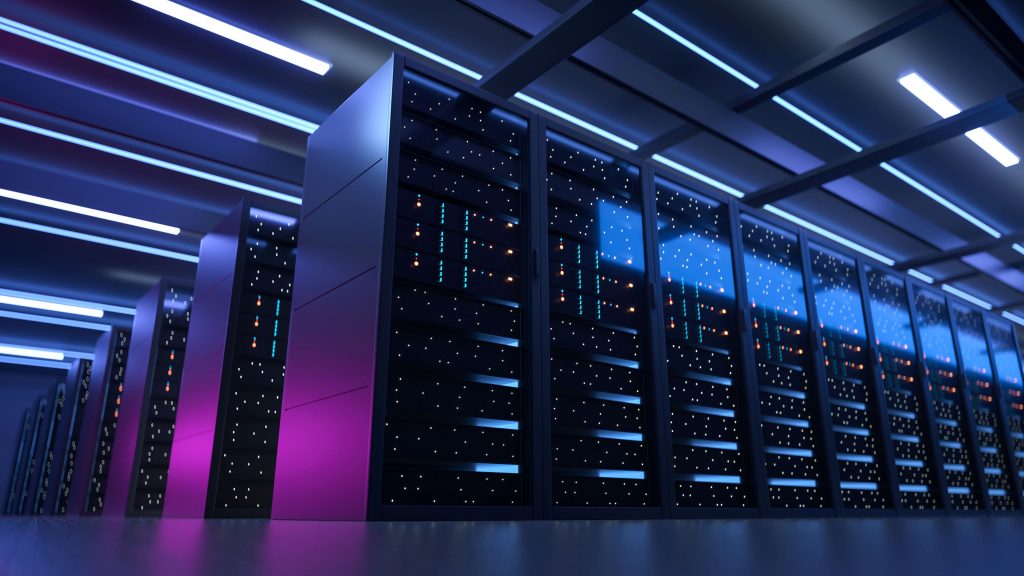 RSI's DATA CENTER CONSULTING
Data center design consulting
from any position for any size
RSI has been involved in the construction, design, and operation of data centers, both domestic and overseas. We provide one-stop services necessary for data centers, from consultation on business plans to consulting in the IT field, and even operation services after completion.
Our services range from office-scale projects to hyperscale data centers, as well as edge data centers and futuristic data centers that incorporate immersion cooling.
What RSI can provide
Design of the interior facilities reflects the requirements of the user company of the data center.
Basic design for attracting data center operation companies as tenants.
Investigation of whether the land or building to be purchased is suitable for a data center.
Assistance in facilitating a project to be assigned to a Japanese company.
Design of a data center with unique specifications required for your own system.
Consultation on futuristic data centers, such as edge data centers utilizing immersion cooling.
Data Center Industry Structure and Role of RSI
The structure of the data center industry has become increasingly fragmented in recent years. Projects often require unique designs and time constraints, and are more complex when dealing with foreign companies.
RSI can meet the needs of any client in any capacity, and more than that, we are flexible enough to address any issues that may arise.
Structure of data center's industry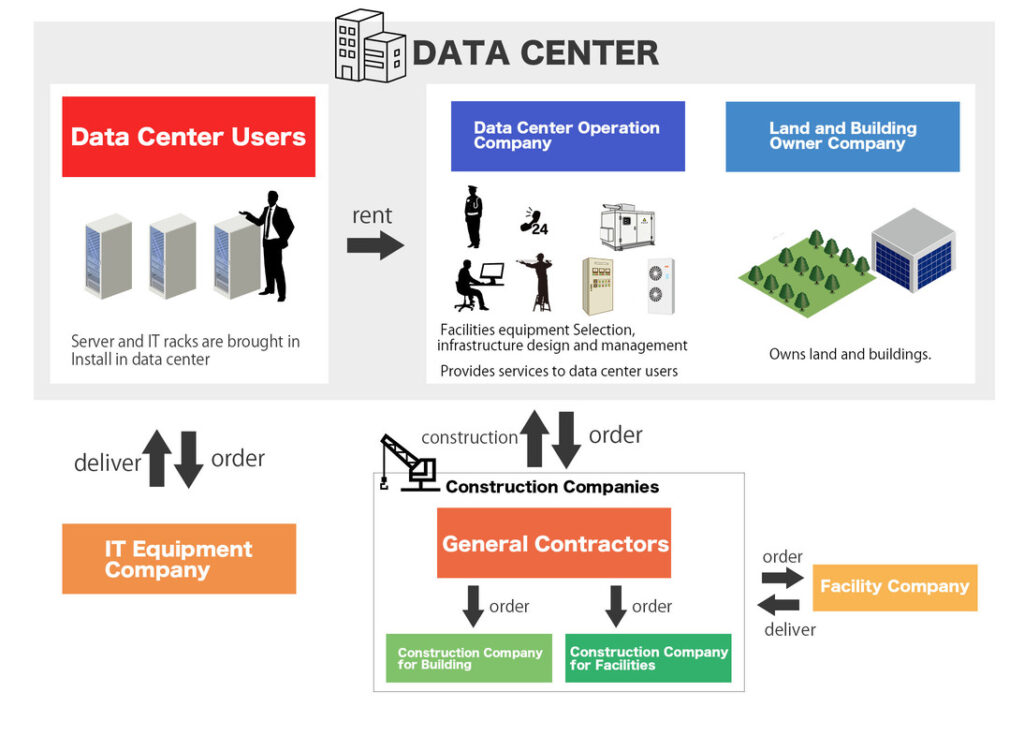 How RSI can help for each Company
RSI is a neutral standing consultant, and depending on the project We support companies in various positions.
For data center operators
Estimation of data center specifications (definition of requirements such as number of racks, power consumption, etc., and preparation of work processes and schedules)
Design and coordination of the connection from the outside to the data center.
Design of IT infrastructure for the entire data center (design of cable routes from the entry point to the server room, selection of IT equipment, etc.)
Operating the data center after completion.
For building and land owners
Design and coordination of the connection from the outside to the data center
Consultation on suitable land/buildings for the data center
Data center specification measurement and asset value evaluation
For general contractors and construction companies
Support for data center construction expertise
Support for smooth communication with an overseas client company
For data center user companies
Design of IT infrastructure in the server room (network routers, switches, storage systems, firewalls, server racks, redundant power supplies, cooling devices, etc.)
Server room rack layout
Configuration of cabling infrastructure and wiring routes, and construction management
Operational monitoring of the network after completion
How the Data Center project proceeds
RSI can assist in each step of the process, for example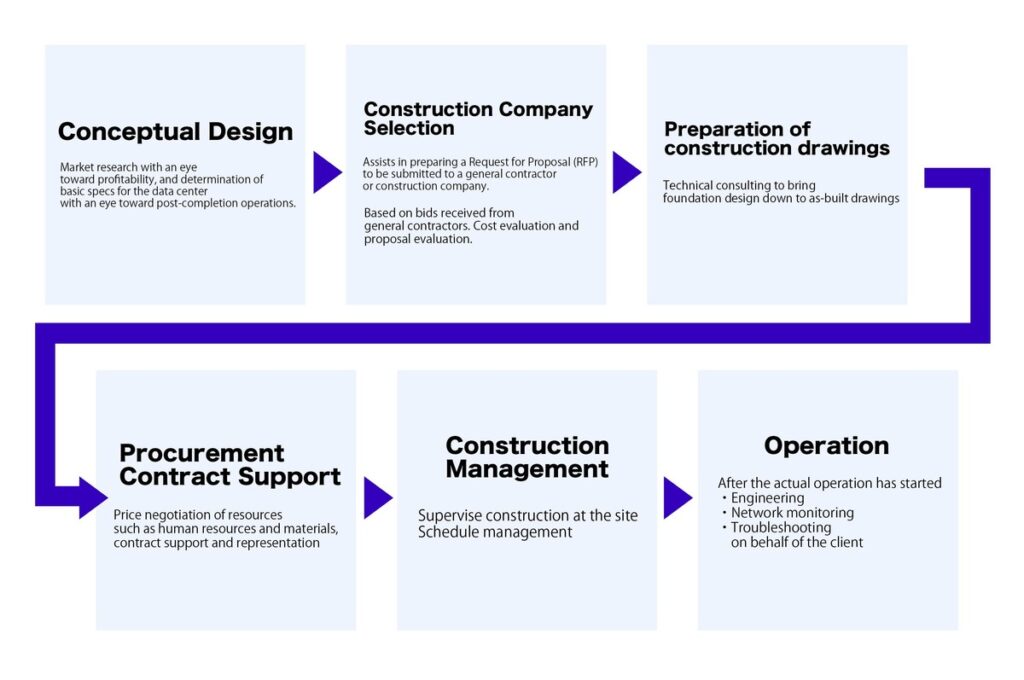 Conceptual Design for Foundation Design
RSI provides an effective and cost-efficient design for your needs.
This phase includes the overall design of the data center and network, basic engineering and design of the project, as well as the development of schedules, budgets, and work packages.
We provide technical consulting to prepare the basic design drawings.
▼
Selection of Construction Contractor
We will assist in preparing a Request for Proposal (RFP) based on the decisions made in the basic design.
We then help the general contractor to evaluate and compare the proposals and costs against the bids from the general contractors.
▼
Preparation of construction drawings (as-built drawings)
We provide technical consulting services to take the rough design determined at the conceptual design stage and bring it to the final drawings.
▼
Procurement
We procure the materials and human resources necessary for the completion of the project on behalf of the client. We also negotiate contracts with various companies on behalf of our clients and act on their behalf based on appropriate contract standards set according to the size and form of the construction project.
▼
Construction Management
We coordinate and manage each phase of the actual data center construction to ensure that all work is performed as planned. We also monitor and report on the progress of construction to prevent possible problems.
▼
Operation
Once the data center is completed, we can manage and operate the data center services on your behalf; RSI has provided a variety of managed services in the past. We can provide 24-hour network monitoring and trouble-shooting services upon request.
Our various experience from office scale to Tier 4 data centers
Here are some of our achievements
・Global data center operator
Consulting on the construction of a large data center with a total of 100 megawatts.
・Global securities firm
Consulting and operational support for building a data center in an office
・Global securities firm
Consulting for data center expansion
・Global investment company
Consulting for data center construction for investment purposes
・Japanese data center operator
Support for preparation of bidding documents for a global client
・Japanese data center operator
Data center construction consulting for a global client
・ Japanese major general contractor
Supporting construction for their foreign client
REACH OUT TO US ABOUT
YOUR NEEDS
RSI is proud to provide a range of services in the data center industry, from planning and construction to operations and management.
Our bilingual services cover every aspect of network and data processing services. We can help you integrate your solutions into the future of computing.